Horses
1. Inside boxes
Standard front with turning door on tracks. Supported with hardwood up till 130 cm height,
with kennel above at the distance of 5cm. This is the ideal distance for the securing of your animals.
The strong fame consists of the U-forms of 50 * 50 * 4mm and square forms of 50*50mm.
The kennels have the width of 22mm. The hard wood is Bangkirai wood and has the width of 35 mm.
If necessary it can be ordered.
†††
†††
†††††††
††††
††††
††††† †
2. Sliding and turning doors
Our sliding and turning doors are manufactured from the high quality materials and are fully worked out.
3. Stall-doors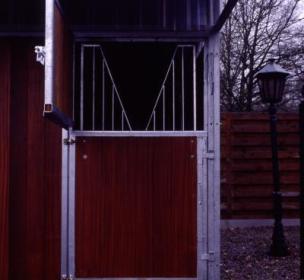 Stall-doors are available in one or two parts. The stall-doors consist of two parts:
a lower part made of hard wood up till 1.3 m and an upper metal construction.
Stall-doors can be procured as well without the upper metal part.
††
††
††
†††
†††
†††††††††††
4. Outside-stalls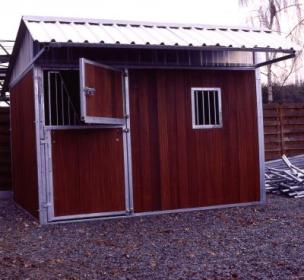 Our outside-stalls are produced of the high quality material and fully worked out. The strong
fame consists of the U-forms of 50 * 50 * 4mm and square forms of 50*50mm. The kennels
have the width of 22mm. Various standard measures are:
3 x 3m - 3 x 3.5m
3 x 4m - 4 x 4m
The ceiling is made of
- shaped plates in standard colours: green 6005, grey-white 9002, brown 8014
- metal ceiling-plates in standard colours: terracotta, black, brown or grey.